We accept these credit cards:




We are certified:
DIE HARD 1 - 5 NAKATOMI PLAZA Collection Limited Collector's Edition Gift Set (5 Blu-ray + DVD)
Price:

2 499 CZK (104,87 €)


(including VAT 21%)

Sound:

DTS-HD Master 5.1 english
Dolby Digital 5.1 czech
Dolby Digital 2.0 hungarian
Dolby Digital 2.0 polish
Dolby Digital 2.0 russian
Dolby Digital 5.1 turkish

Subtitles:
english, czech, hungarian, polish, russian, turkish
Length:
132 + 126 + 123 + 125 + 98 minut
Cast:
Bruce Willis, Bonnie Bedelia, Alan Rickman, Paul Gleason, Reginald VelJohnson, Alexander Godunov, William Atherton, and more >

Hart Bochner

,

James Shigeta

,

Andreas Wisniewski

,

Clarence Gilyard Jr.

,

Grand L. Bush

,

Wilhelm von Homburg

,

Robert Davi

,

Rick Ducommun

,

Anthony Peck

,

Mary Ellen Trainor

,

Dennis Hayden

,

Al Leong

,

Charlie Picerni

,

Bonnie Bedelia

,

William Atherton

,

Reginald Vel Johnson

,

Franco Nero

,

William Sadler

,

John Amos

,

Dennis Franz

,

Art Evans

,

Fred Dalton Thompson

,

Tom Bower

,

Sheila McCarthy

,

Don Harvey

,

Robert Patrick

,

John Leguizamo

,

Tom Verica

,

Vondie Curtis-Hall

,

Mark Boone Junior

,

Jeanne Bates

,

Colm Meaney

,

Paul Abascal

,

Robert Costanzo

,

Karla Tamburrelli

,

Tom Everett

,

Rande Scott

,

Peter Nelson

,

Richard Domeier

,

Tony Ganios

,

Felicity Waterman

,

Dale Jacoby

,

Robert Sacchi

,

Robert Lipton

,

James Wellington

,

Jeremy Irons

,

Samuel L. Jackson

,

Graham Greene

,

Colleen Camp

,

Anthony Peck

,

Kevin Chamberlin

,

Michael Cristofer

,

Tony Travis

,

Jeannie Epper

,

John Doman

,

Aasif Mandvi

,

Aldis Hodge

,

Edwin Hodge

,

Tony Halme

,

Timothy Olyphant

,

Justin Long

,

Maggie Q

,

Cliff Curtis

,

Jonathan Sadowski

,

Kevin Smith

,

Cyril Raffaelli

,

Mary Elizabeth Winstead

,

Sung Kang

,

Željko Ivanek

,

Christina Chang

,

Chris Ellis

,

Matt O'Leary

,

Tim Russ

,

Yancey Arias

,

Rick Cramer

,

Jake McDorman

,

Michael Ahl

,

Gerald Downey

,

Allen Maldonado

,

Ethan Flower

,

Edoardo Costa

,

Tim De Zarn

,

Jai Courtney

,

Sebastian Koch

,

Mary Elizabeth Winstead

,

Julia Snigir

,

Radivoje Bukvic

,

Amaury Nolasco

,

Cole Hauser

,

Anne Vyalitsyna

,

Megalyn Echikunwoke

,

Atilla Árpa

,

Roman Luknár

,

Aksel Hennie

,

Patrik "Rytmus" Vrbovský

,

Martin Hindy

,

Ján Gallovič

,

Iván Kamarás

,

Melissa Tang

,

Rico Simonini

,

Chris Majors

Directed:
John McTiernan, Renny Harlin, John McTiernan, Len Wiseman, John Moore
Sharing:
Watchdog:
watchdog
DIE HARD - NAKATOMI PLAZA COLLECTOR'S LIMITED GIFT SET
UNBOXING NAKATOMI PLAZA:
John McClane complete Blu-ray Collector's NAKATOMI PLAZA limited gift set includes:
5 Blu-ray movies
1 Bonus DVD disc with documents from shooting and preparations
Collectible Building NAKATOMI PLAZA
5 collectible cards of DIE HARD Villains
32P booklet with information and images BEHIND THE SCENES
You may also look forward to a special collector's A2 posters from Filmarena, Bontonfilm and 20th Century FOX
DIE HARD
New York City Detective John McClane has just arrived in Los Angeles to spend Christmas with his wife. Unfortunatly, it is not going to be a Merry Christmas for everyone. A group of terrorists, led by Hans Gruber is holding everyone in the Nakatomi Plaza building hostage. With no way of anyone getting in or out, it's up to McClane to stop them all. All 12!
Die Hard 2
After the terrifying events in LA, John McClane (Willis) is about to go through it all again. A team of terrorists, led by Col. Stuart (Sadler) is holding the entire airport hostage. The terrorists are planning to rescue a drug lord from justice. In order to do so, they have seized control of all electrical equipment affecting all planes. With no runway lights available, all aircraft have to remain in the air, with fuel running low, McClane will need to be fast.
Die Hard: With a Vengeance
John McClane is now almost a full-blown alcoholic and is suspended from the NYPD. But when a bomb goes off in the Bonwit Teller Department Store the police go insane trying to figure out what's going on. Soon, a man named Simon calls and asks for McClane. Simon tells Inspector Walter Cobb that McClane is going to play a game called "Simon Says".
He says that McClane is going to do the tasks he assigns him. If not, he'll blow off another bomb. With the help of a Harlem electrician, John McClane must race all over New York trying to figure out the frustrating puzzles that the crafty terrorist gives him. But when a bomb goes off in a subway station right by the Federal Reserve (the biggest gold storage in the world) things start to get heated up.
Live Free or Die Hard
When someone hacks into the computers at the FBI's Cyber Crime Division; the Director decides to round up all the hackers who could have done this. When he's told that because it's the 4th of July most of their agents are not around so they might have trouble getting people to get the hackers. So he instructs them to get local PD'S to take care of it.
And one of the cops they ask is John McClane who is tasked with bringing a hacker named Farrell to the FBI. But as soon as he gets there someone starts shooting at them. McClane manages to get them out but they're still being pursued. And it's just when McClane arrives in Washington that the whole system breaks down and chaos ensues.
A Good Day to Die Hard
Iconoclastic, take-no-prisoners cop John McClane, for the first time, finds himself on foreign soil after traveling to Moscow to help his wayward son Jack - unaware that Jack is really a highly-trained CIA operative out to stop a nuclear weapons heist. With the Russian underworld in pursuit, and battling a countdown to war, the two McClanes discover that their opposing methods make them unstoppable heroes.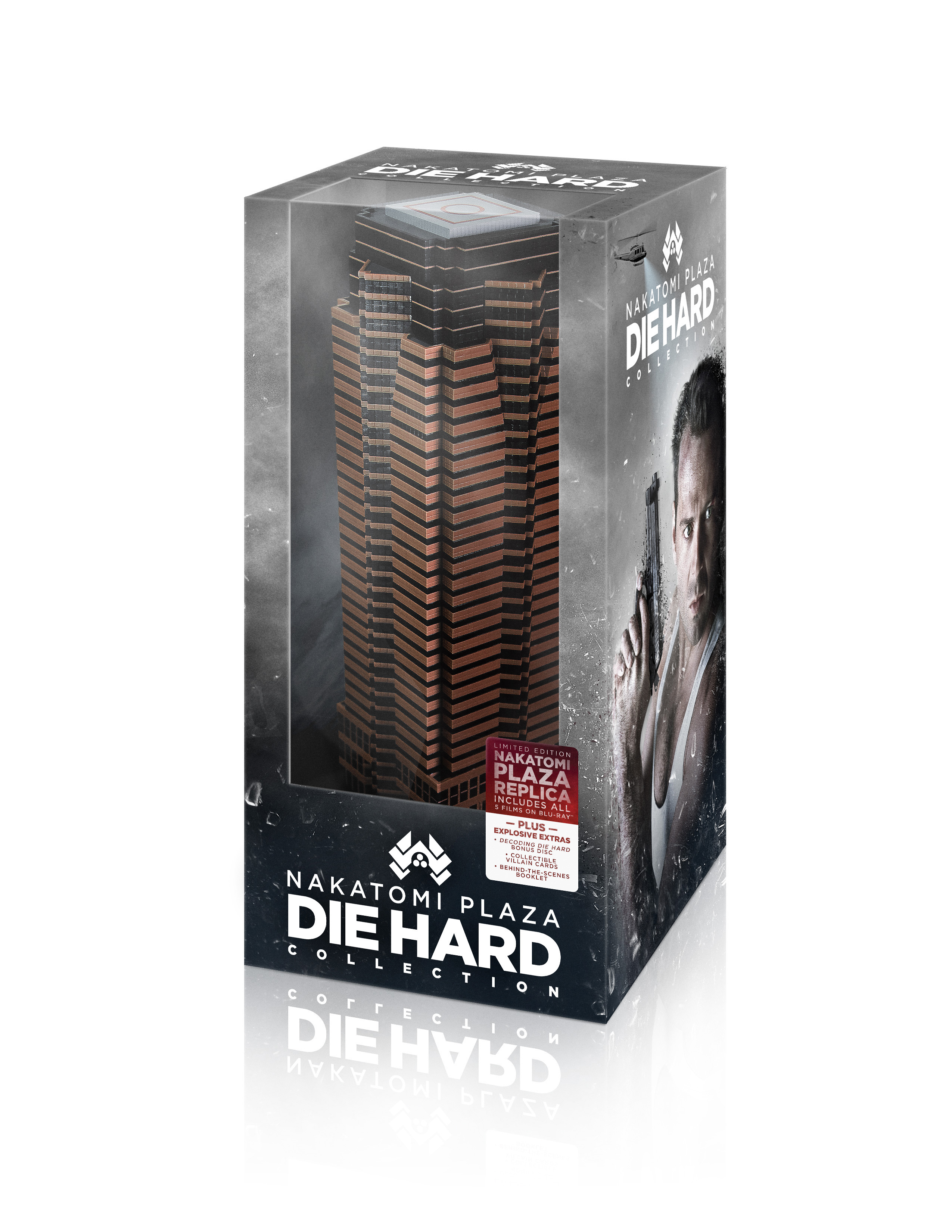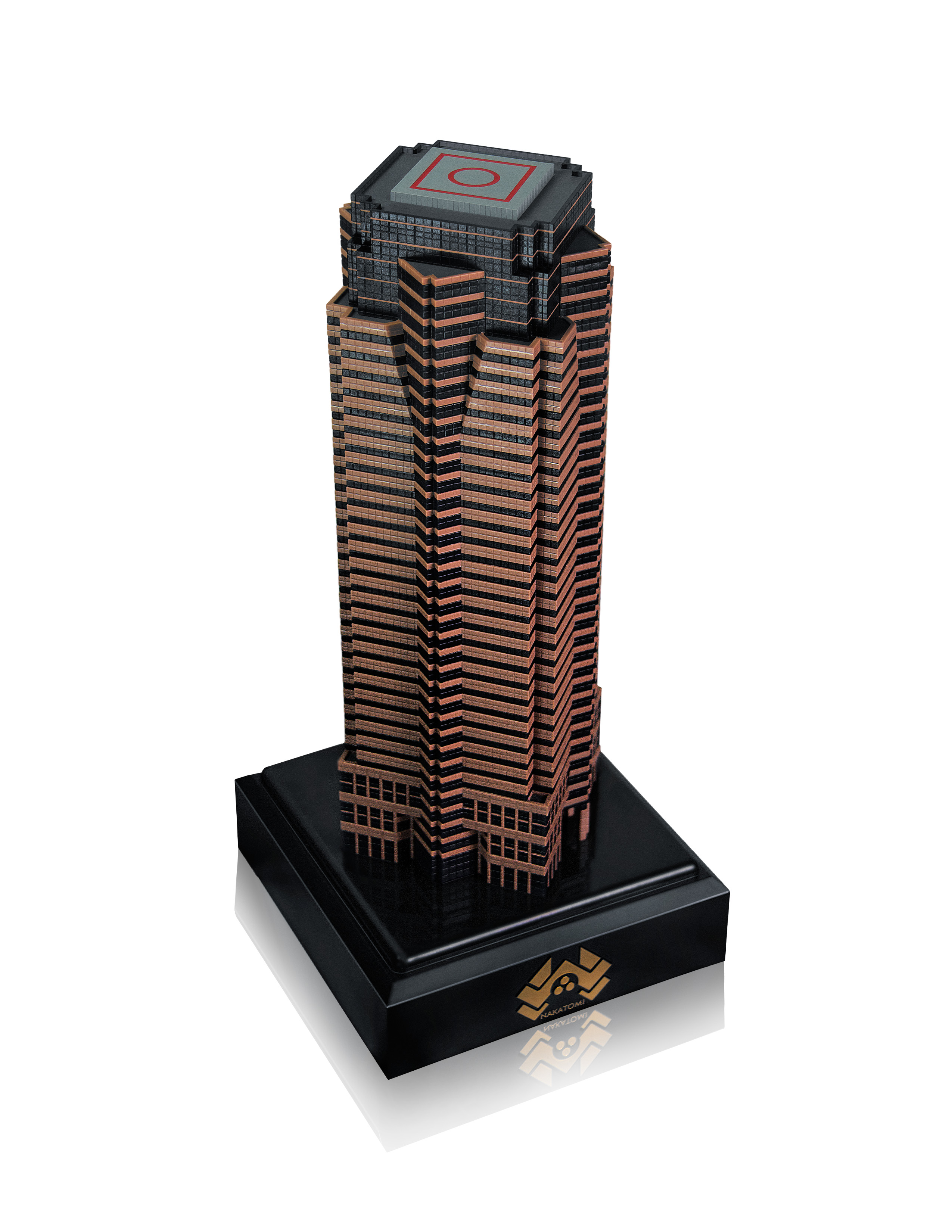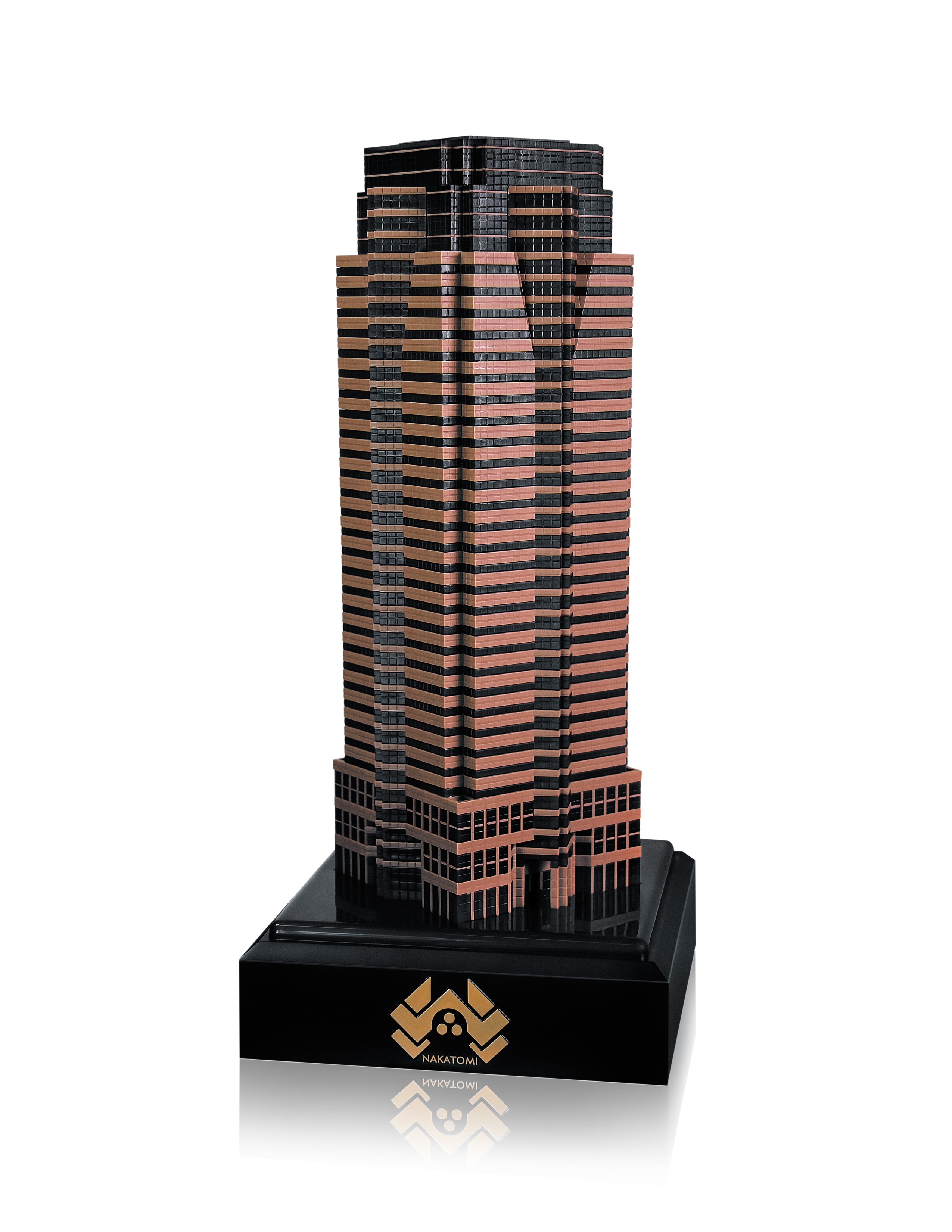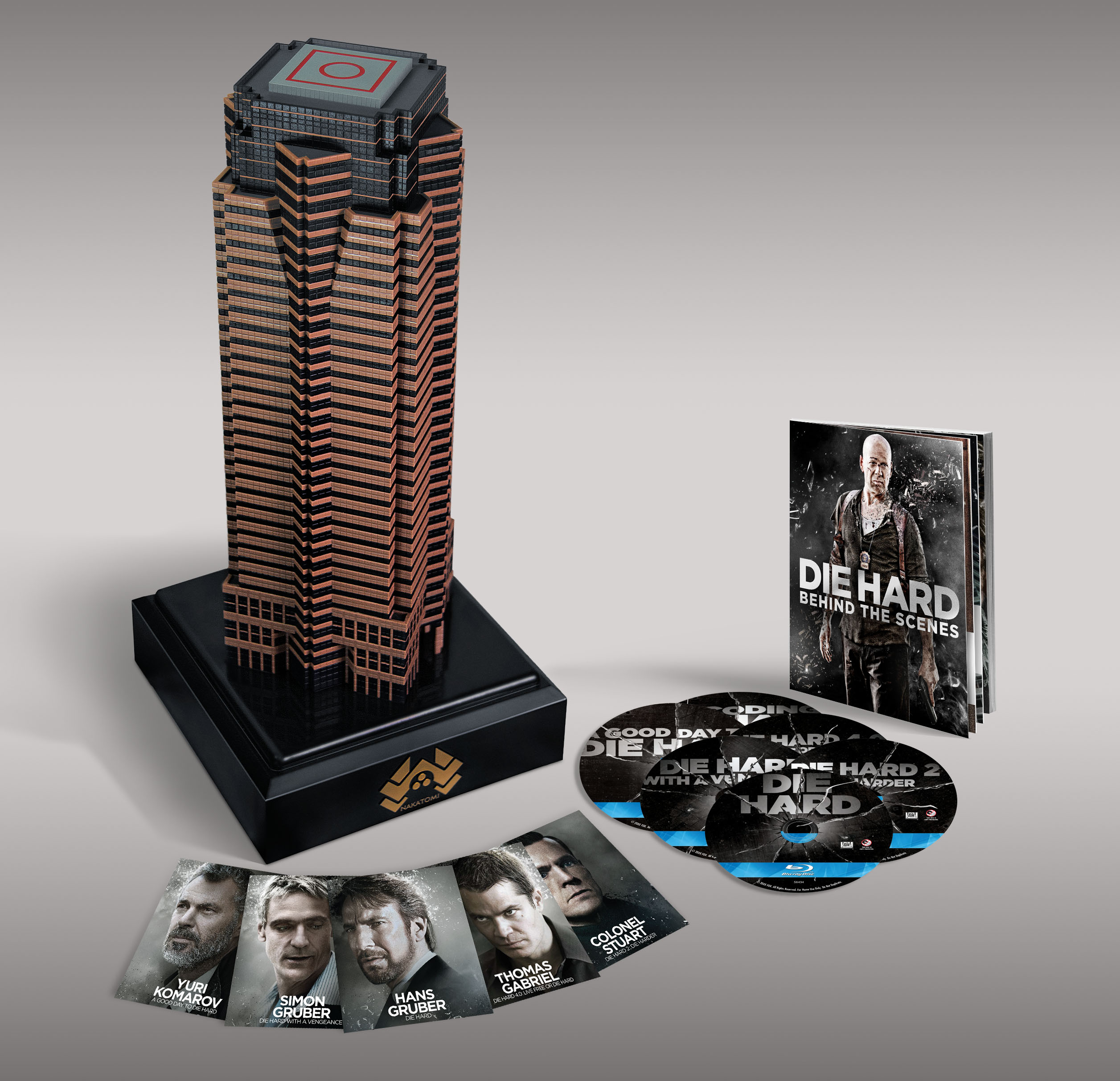 Nakatomi Plaza Teaser:
Nakatomi Plaza Unboxing
Die Hard
John McClane, a detective with the New York City Police Department, arrives in Los Angeles to attempt a Christmas reunion and reconciliation with his estranged wife Holly (Bonnie Bedelia), who is attending a party thrown by her employer, the Nakatomi Corporation, at its still-unfinished American branch office headquarters, the high-rise Nakatomi Plaza. When McClane refreshes himself from the flight in Holly's corporate room, they have an argument over the use of her maiden name, Gennero, but Holly is called away.

As the party continues, a convoy of trucks makes its way to the building. Two men, Karl (Alexander Godunov) and Theo (Clarence Gilyard Jr.), arrive at the front desk to divert security's attention away from the trucks. Karl guns down the guards while Theo commandeers the closed circuit security field. Terrorists led by German anarchist Hans Gruber (Alan Rickman) emerge from the trucks and hold the partygoers as hostages in exchange for terrorist operatives in prison. In the confusion, McClane was able to disappear unnoticed into the building's maintenance areas, and learns that Gruber is actually using the hostage situation as a cover to steal $640 million in bearer bonds stored in the building's vault. McClane is unable to stop Gruber from executing Joe Takagi, Holly's boss, when he refuses to hand over the vault's combination.

McClane attempts to alert the local police by setting off the fire alarm, but this fails, and he is promptly discovered by Karl's brother, Tony. McClane kills Tony, taking his gun and radio, which he uses to contact the LAPD. Karl demands vengeance, and convinces Gruber to send two more henchmen, Marco and Heinrich, to neutralize him. McClane kills them both and secures a quantity of C4 explosives and all the crucial detonators which Heinrich was setting into prepared explosives. Sergeant Al Powell (Reginald VelJohnson) arrives to check the building, finds nothing amiss and drives off, but McClane gets his attention by Marco's corpse onto Powell's patrol vehicle. The situation rapidly escalates, and the SWAT team arrives to storm the building. However, Theo notices their movements on the security feed and alerts Gruber. McClane attempts to get Powell to stop the SWAT team from walking into a trap, but Powell cannot convince his superiors. The SWAT team is repelled, the SWAT armoured vehicle is disabled by a rocket launcher, and the police are out-gunned by the firepower of the terrorists. McClane drops C4 down the elevator shaft and destroys the entire floor where the terrorists are firing from, giving the cops a chance to retreat. This attracts the attention of the press, led by sleazy reporter Richard Thornberg (William Atherton), and the FBI, led by Special Agent Johnson (Robert Davi).

As the remainder of Gruber's men attempt to find McClane and the detonators, one of the hostages, Harry Ellis (Hart Bochner), betrays McClane's identity to Gruber. Gruber uses the radio to contact McClane, and demands that McClane return the detonators or else he would shoot one of the hostages. McClane refuses, and Gruber kills Ellis, to the horror of the police force who heard everything on radio. McClane continues to keep moving through the building to try to learn Gruber's plans. McClane and Gruber accidentally meet but Gruber gains McClane's trust by passing himself off as an escaped hostage. But then Gruber's identity is discovered as he threatens to shoot McClane. When Gruber's men arrive, McClane flees, dropping the detonators.The FBI shut off the building's power while they plan a helicopter raid onto the roof. However, Gruber had planned for the FBI's predictability - disconnecting the power opened the final electromagnetic lock on the vault and gave him access to the bonds. He has used the recovered detonators to rig the helipad on the building's roof with explosives, knowing the FBI would attempt a sneak gunship attack on the building. After the FBI informs Gruber that his demands have been met, Gruber's men force the hostages to the roof to be killed by the explosions, so they could escape in the confusion. McClane, after fighting off Karl and failing to warn the police of the Gruber's doublecross, is able to get the hostages back inside safely, but the FBI helicopter shoots at him, believing he's one of the terrorists. The helipad explodes, the helicopter is destroyed and Johnson is killed in the explosion.

Gruber has discovered from Thornberg's investigative newscast that Holly Gennero is McClane's wife. He holds her hostage to prevent McClane from interfering in his getaway. McClane, down to his last two bullets, is able to lull Gruber into a trap, killing the last remaining terrorist and wounding Gruber, who falls backwards and out of the building through a window. Gruber manages to hang onto Holly's wristwatch, his weight dragging her out the window as well. McClane is able to unstrap the watch and lets Gruber fall to his death. Meanwhile, Theo is detained by McClane's limo driver, Argyle, after collecting the bonds. McClane and Holly leave the building together, and meet Powell face to face for the first time. Karl comes out behind McClane and Holly with an assault rifle, but Powell, who had previously confessed to McClane that he had not fired a gun since he accidentally shot a child years ago, draws and shoots him before he can harm McClane and Holly. Thornberg attempts to interview them as they are leaving the scene, Holly punches him in the face. McClane and Holly take off in Argyle's limo as the building is secured by the police.
Bonuses to DIE HARD 1 - 5 NAKATOMI PLAZA Collection Limited Collector's Edition Gift Set (5 Blu-ray + DVD)
#
Name
Length
Video
Audio
Subtitles
1.
Origins - Reinventing The Action Genre (Decoding Die Hard)
00:18:46
SD 576i
english
english, czech, danish, finnish, french, dutch, italian, castilian, hungarian, german, norwegian, polish, portuguese, russian, greek, swedish, turkish
2.
John McClane - Modern Day Hero (Decoding Die Hard)
00:15:48
SD 576i
english
english, czech, danish, finnish, french, dutch, italian, castilian, hungarian, german, norwegian, polish, portuguese, russian, greek, swedish, turkish
3.
Villains - Bad to the Bone (Decoding Die Hard)
00:19:50
SD 576i
english
english, czech, danish, finnish, french, dutch, italian, castilian, hungarian, german, norwegian, polish, portuguese, russian, greek, swedish, turkish
4.
Sidekicks - Along For the Ride (Decoding Die Hard)
00:18:21
SD 576i
english
english, czech, danish, finnish, french, dutch, italian, castilian, hungarian, german, norwegian, polish, portuguese, russian, greek, swedish, turkish
5.
Fight Sequences - Punishing Blows (Decoding Die Hard)
00:07:10
SD 576i
english
english, czech, danish, finnish, french, dutch, italian, castilian, hungarian, german, norwegian, polish, portuguese, russian, greek, swedish, turkish
6.
Action - Explosive Effects (Decoding Die Hard)
00:14:01
SD 576i
english
english, czech, danish, finnish, french, dutch, italian, castilian, hungarian, german, norwegian, polish, portuguese, russian, greek, swedish, turkish
7.
The Legacy - The Right Hero For The Right Time (Decoding Die Hard)
00:08:08
SD 576i
english
english, czech, danish, finnish, french, dutch, italian, castilian, hungarian, german, norwegian, polish, portuguese, russian, greek, swedish, turkish
8.
Die Hard (Die Hard Trailers)
00:00:34
SD 576i
english
-
9.
Die Hard 2 (Die Hard Trailers)
00:01:21
SD 576i
english
-
10.
Die Hard with a Vengeance (Die Hard Trailers)
00:02:36
SD 576i
english
-
11.
Live Free or Die Hard (Die Hard Trailers)
00:02:10
SD 576i
english
-
12.
A Good Day to Die Hard (Die Hard Trailers)
00:01:40
SD 576i
english
-
Overall: Quantity: 12, The total length of bonuses: 01:50:25
Related products
Popular categories:4K movies |3D movies |Blu-ray movies |DVD movies |News on DVD |News on Blu-ray |Action movies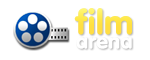 | | | | |
| --- | --- | --- | --- |
| About Company | How to purchase | Assortment | Partner sites |